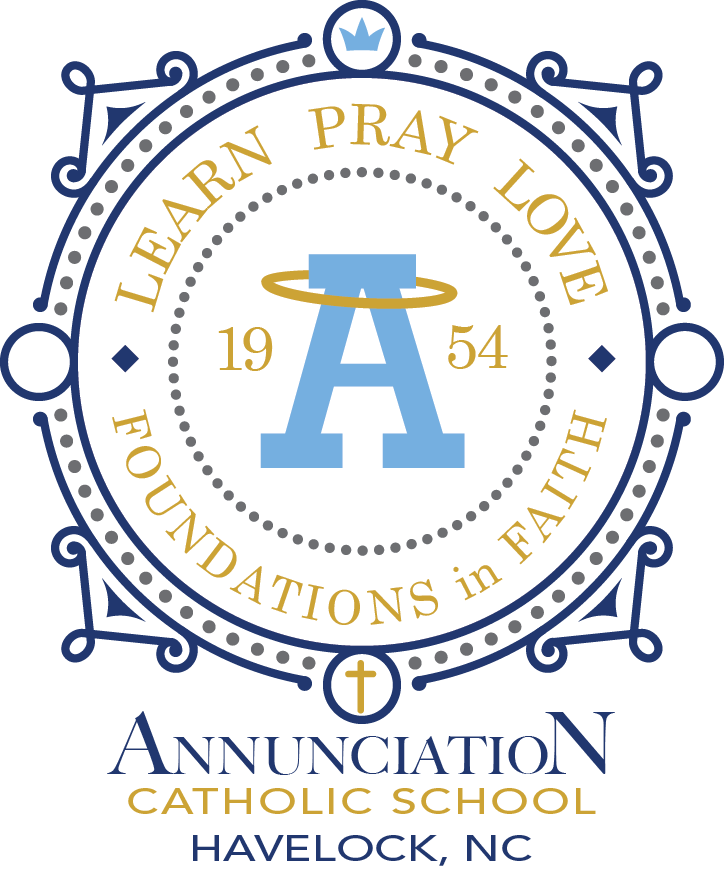 Welcome to Annunciation Catholic School! I am delighted that you are interested in our school. It truly is a wonderful place for your child to learn and grow in academics and faith. With one class per grade, we provide a small, family atmosphere for students age 3 through eighth grade. At ACS, your child's body, mind, and spirit will be nurtured by a caring faculty, staff, and volunteers.
We seriously take the responsibility to educate our students in faith. At Annunciation, we infuse our Catholic faith into every aspect of our daily lives, striving always to actively live our faith. An Annunciation Catholic School student is easily identified through their caring and service to others.
Annunciation Catholic School has proudly served the Havelock area for 69 years. We are accredited by Advance Ed (formerly the Southern Association of Schools). We are members of the National Catholic Education Association, and the Chamber of Commerce.
From its humble beginnings, Annunciation Catholic School has made Religious Education an integral part of the whole child, continually working to develop a sense of personal responsibility. Students are called to awareness of their unique God-given talents and challenged to achieve in an academically rigorous curriculum.
ACS is proud to offer to our students a variety of co-curricular and extracurricular activities, including membership in the National Junior Honor Society, athletics, after school clubs, and Fine Arts. We offer a before-school and after-school program called STACK.
Parish and community members are frequent volunteers in our school. We have a strong relationship with the Marine Corps Air Station at Cherry Point, which provides numerous opportunities for our students.
Thank you for considering Annunciation Catholic School for your child. As you discern this very important decision for your family, you will remain in our prayers. Please feel free to call me with any questions that you may have.
Yours in Christ,
Dr. Matthew Jennings
Interim Principal